How to Choose Good Quality Brazilian Body Wave Hair Bundles Online
Brazilian body wave hair is a popular choice for those looking to add volume, length, and texture to their hair. With so many options available in the market, it can be overwhelming to select the best quality hair bundles. Here are some tips on how to pick good quality Brazilian body wave hair 3 bundles without relying on brand or price alone.
First, look for hair bundles that are 100% human hair. Synthetic hair or blends are often cheaper, but they lack the natural movement and feel of real human hair. Human hair can be styled, colored, and washed just like your natural hair, making it easier to maintain and blend in with your existing hair.
Second, look for hair bundles that are unprocessed or minimally processed. Unprocessed hair means that it has not been chemically treated, and it has not been exposed to harsh chemicals such as peroxide or ammonia. Minimally processed hair may have undergone some treatment but without damaging the hair cuticles. It's essential to choose unprocessed or minimally processed hair to ensure that the hair retains its natural texture, shine, and strength.
Third, check the texture of the hair. Brazilian body wave hair should have a consistent wave pattern from top to bottom. The hair strands should feel soft, smooth, and bouncy. If the hair feels rough or tangled, it may be a sign of poor quality hair.
Fourth, check the thickness of the hair strands. High-quality hair bundles should have thick, full strands that are not prone to breakage or shedding. Thin, brittle strands are a sign of lower quality hair that may not last as long.
Finally, consider the length and weight of the hair bundles. Longer hair bundles will require more hair to create a full, voluminous look. However, longer hair can also be heavier, which may cause strain on your scalp and hairline. Choose hair bundles that are the appropriate length and weight for your desired style and comfort.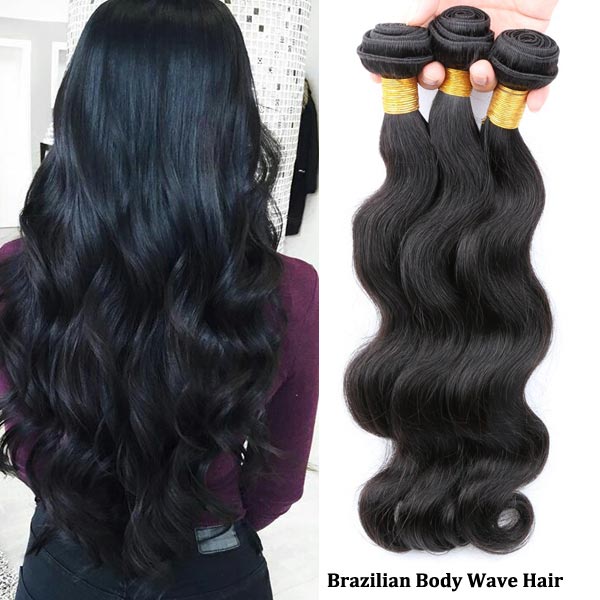 Choosing good quality Brazilian body wave hair bundles involves looking for 100% human hair, unprocessed or minimally processed hair, consistent wave pattern, thick hair strands, and appropriate length and weight. These factors will ensure that you get the best value for your money and that your Brazilian body wave hair will look and feel natural, vibrant, and healthy.