How To Start Selling Virgin Hair
There is a big hair market in the world nowadays, hair cutting, hair extension, hair coloring etc. If you are interested in the hair market, please read this post, probably it is helpful for you.
For the black women, such as American women, they prefer to change their hairstyle for the weddings, parties or in daily life. So they need some hair extension for changing the hairstyle if necessary, such as lace wigs, clip-in hair and virgin hair weaves etc. The market shows that the virgin hair weave is the most popular hair extension for black women.
If you are interested in how to start selling virgin hair, kindly read the steps below for reference.
1. Write a Business Plan
You must have a plan for your hair business to know how to do your business step by step, it should be a full business plan from buying hair to selling hair, your aim, your money, customer resources, hair supplier, shipping etc, everything of them.
2. Know Your Products
You should have to know more about the hair products you are going to sell although the hair products seem to be simple. But you never know what questions your clients will ask you. Take virgin hair for example, you should know the detailed of the hair, such as the net weight, human hair type, virgin or non-virgin hair, color, length, textures, packing and so on.
3. Find Your Hair Supplier
You must need a hair supplier who can supply stable high quality hair for you. For the individual, they may buy hair from the hair store around them or order online from the local hair wholesalers or retailers. As you are going to be a wholesaler or retailer, this is unacceptable for you because it will cost you too much on purchasing. We recommend you to purchasing hair from oversea, most of the hair wholesalers and retailers do so. We could offer you the premium quality virgin human hair to help expand your local market, kindly contact us if necessary. Please kindly click the photo to know more about our Brazilian straight hair.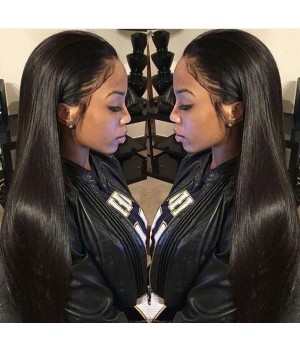 4. How to Sell Virgin Hair
There are many ways to sell your virgin hair, even you are new in hair market. Running a hair store at your location, creating a free web shop on Ebay, BigCartel, Weebly and Storenvy, your company online web shop, social network marketing etc. When you sell the first order of hair, your clients may recommend their friends to buy from you as well(
Attached the photo of Paypal billing records of Ebony Hair Firm.
).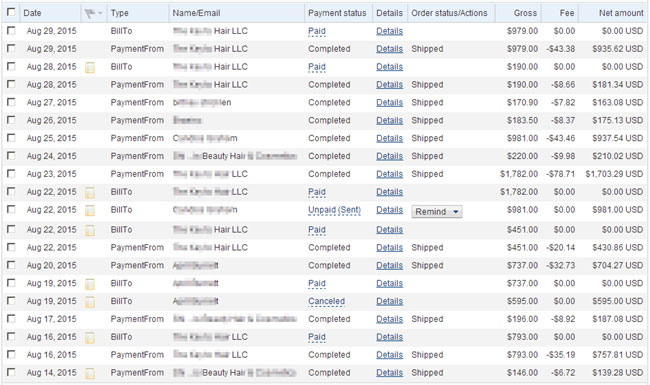 5. Build Your Web Profile
Some buyers prefer to order online and want to know more about you if they haven't bought hair from you before. For our experience, you could build your web profile to increase your sale and have a way to communicate with your customers because they may share their new hair, this will be very very very helpful for building trust for other clients! Below are the websites you should have to build your profiles. Linkedin, Facebook, Twitter, Youtube, Instagram and your web shop.
6. Set Your Payment Account
You should have to know more payment ways of Credit Card, Paypal, Western Union, MoneyGram, Escrow, Bank Wire, they are regular payment ways in hair business, so you need to know all of them well and set the necessary payment accounts for any of them. Then you could receive your money well.
7. Packing and Shipping
If you have your owned brand, maybe you need to print some brand stickers, hang tags and name card. For this process, you will obtain much because the buyers will remember your brand name, such as Ebony Virgin Hair, xx hair and so on. With your brand labels packing on your hair, it will make more people know your business. In additional, each bundle of hair should have an individual packing pvc bag if necessary when shipping. Choose a fast shipping company is important, no lost, no delay, your customers will be satisfied with your shipping service.
8. After-sale Service
Good after-sale service is important both for buyers and you. You could ask the buyer if they are satisfied with the hair or not, share their new look on your Facebook, Twitter, Instagram any kinds of social networks or @you, keep in touch with your customers. Love your business and your customers!
With the steps above, Ebony Hair Firm hope this post is helpful and you may have some ideas of how to start selling virgin hair now. If you are going to sell virgin hair, or you are already in hair business, or you are just an individual wanting to buy virgin hair, please do not hesitate to contact us to know more about us and our hair, we would like to provide our best hair and service to meet your requirements. Contact us now!!!
HOW TO DO FIRST?
Contact us to obtain our virgin hair price list and place a trial order to check the quality first!
Chat on Whatsapp:
+8613570563771
Email to Us:
sales@humanhaircn.com
Selling Hair Affiliate Program
Since there are too much work to run a hair company and do full time hair business, or you don't have too much time to do all of these, we highly recommend you to think about our affiliate program of selling hair. If the sales made by the buyers are from the affiliate links, you would get your commissions(6%) after the buyers place the order!
Register an Account
Please kindly register an affiliate account here: https://www.ebonyhairfirm.com/index.php?route=affiliate/login, please notice that we only accept Paypal as commission account.
Generate Your Tracking Code
The affiliate account will be approved automatically after register, login your account and click Custom Affiliate Tracking Code, you can see the tracking code.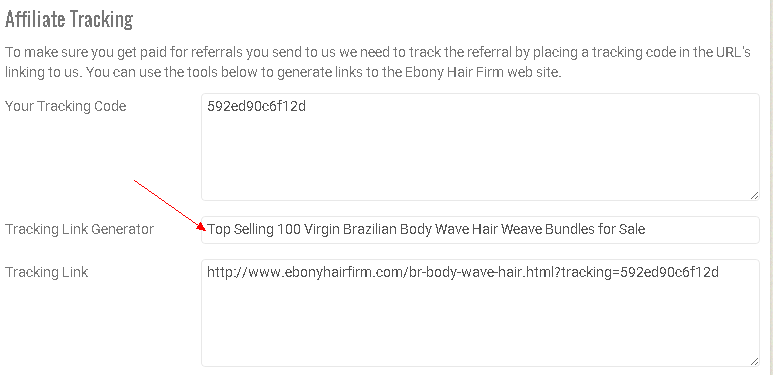 I. Single Product Affiliates
You can search the entire product title in Tracking Link Generator, then you can see the affiliate link of this product like this: https://www.ebonyhairfirm.com/br-body-wave-hair.html?tracking=592ed90c6f12d
You can get the commissions only when the buyers order this product through clicking from this affiliate link.
II. All Products Affiliates
Just add your tracking code behind our website domain like this: https://www.ebonyhairfirm.com/?tracking=xxxxxxxxxxxxx
Replace xxxxxxxxxxxxx to your tracking code like this: https://www.ebonyhairfirm.com/?tracking=592ed90c6f12d
Once the buyers order any products in our store, you can get the commissions.
Promote the Affiliate Links
Place your owned affiliate links anywhere like your blog signature, article and post, facebook, twitter, instagram, pinterest,google+ etc any kinds of social networks, even just send the affiliate links to your friends who would like to order human hair. Our hair price is so competitive comparing with the United State Markets, so the buyers are most probably place the order in our store, and you would get the commissions! Join today!